2 Ton Overhead Crane For Sale to Philippines
2 ton overhead crane belongs to light duty overhead crane to carry small and light loads in factory, warehouse, shop, and workshop of assembly lines. Recently, DQCRANES designed, manufactured and exported a single girder bridge crane to Philippines, hope this project can give you some helps to  select a suitable crane system for your needs.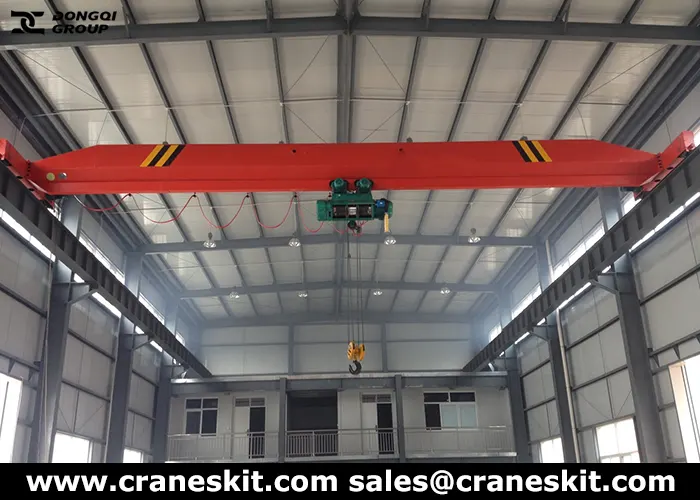 overhead crane for sale in the Philippines
Two months ago, we got an email that a customer want to purchase a single girder 2 ton overhead crane for his mold manufacturing factory. The bridge crane is involved in the technological operations of machining in the manufacture of molds, in particular: it unloads forgings, moves metal blanks to machines for further processing, and also stores finished products and is involved in loading them for shipment to customers.
The specialists of DQCRANES, having analyzed the features of the Customer's production premises, proposed a modern design of the overhead bridge crane, which provides the required working height, side approaches in a limited space. An electric single girder bridge crane 2 ton was manufactured and exported from DQCRANES to Philippines, to help improve production efficiency and expand capacity.
2 Ton Overhead Crane to Philippines Design Drawing Drawing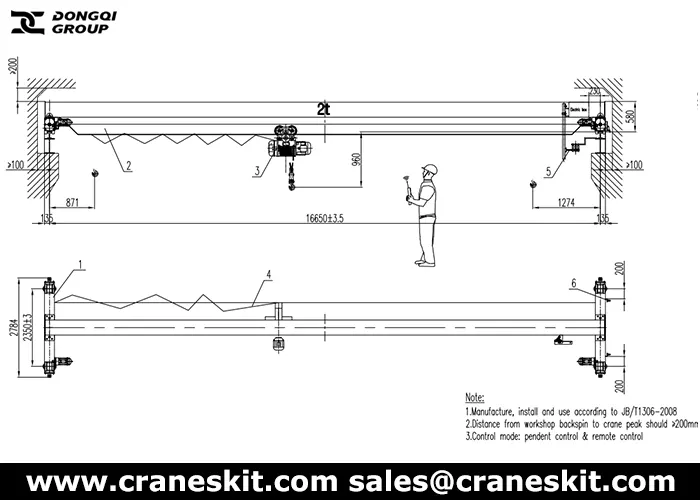 Overhead Crane for Sale to Philippines Parameters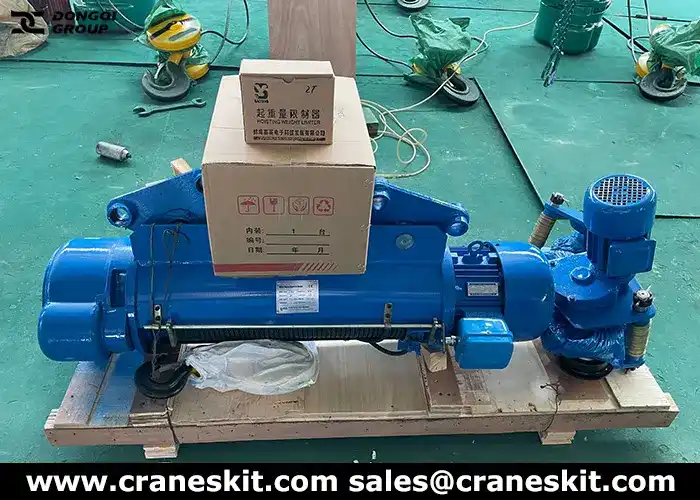 Lifting capacity: 2 ton
Lifting height: 7m
Girder span: 16.65m
Power supply: 380V/60HZ/3P
Control:  pendent control+remote control
Long traveling speed: 20m/min
Cross traveling speed: 20m/min
Lifting speed: 8m/min
Working Duty: A3
Weight: 2850KG
Max wheel load: 16.8KN
Insulation grade: F
Protection grade: IP54
Ambient temperature: -20℃ ~ +40℃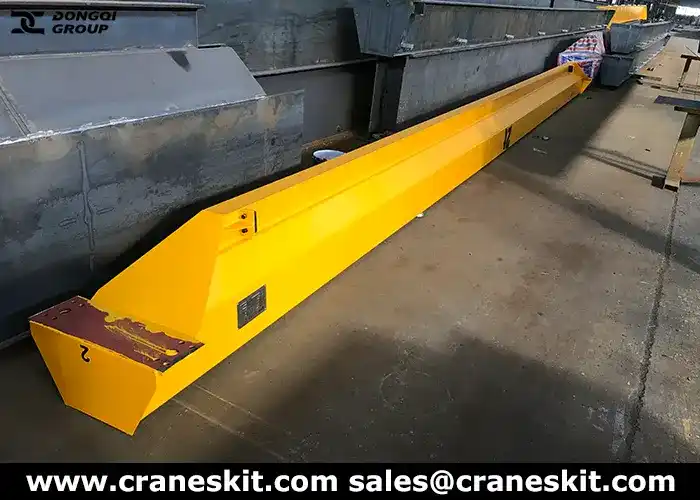 Safety Devices
Limit switch
Overload limit
Traveling limit
emergency stop
Auto braking of all motors on power loss Anti-collision device etc
This top running overhead crane designed by DQCRANES has significantly reduced costs in the construction of the crane trestle. Taking into account the peculiarities of the customer's production, the optimal complete set of the bridge crane was implemented, which ensured smooth movements and positioning accuracy, significantly reduced the amplitude of oscillations when moving loads, reduced working cycles during operation at high speeds.
overhead crane installation Service from DQCRANES
The installation of the crane and the current supply, as well as the commissioning works will be completed after the customer received the cranes. For overseas installation, we can offer you 7/24 online installation guide with video, picture, paper instruction, etc.. We can also arrange our engineers to your sites, will hold the training sessions with the employees of the customer enterprise on the correct and safe operation of crane equipment.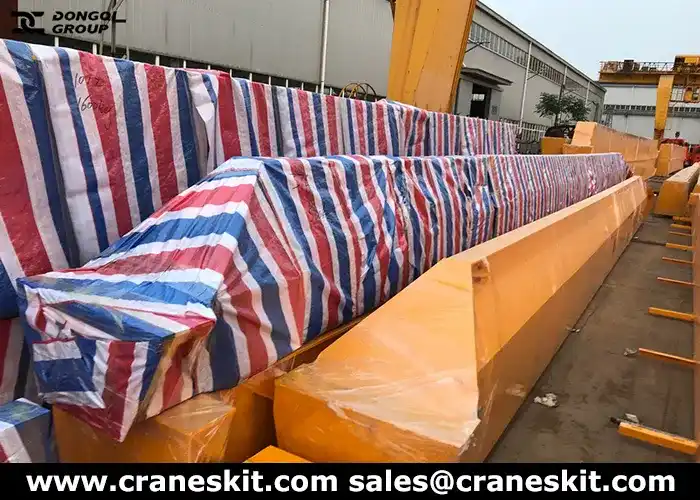 How To Choose The Right Overhead Crane in Philippines?
DQCRANES manufacture and supply multiple types and configurations of overhead cranes, which is the optimal choice for your application? Here are some guidelines to help you make the right choice:
First, Determine the Crane Type You Need
Single girder top running crane – ideal for small capacity and light duty applications, typically used to handle loads under 20 tons. The single girder crane has simpler structure, lower cost and faster installation than its double girder counterparts.
Single girder under running crane – you can choose an underhung crane when a top running system is not suitable for your facility. Since the underhung bridge crane is suspended from your building roof structure, the lifting capacity is not large, typically less than 10 tons, and it also has certain requirements for your building roof structure.
Double girder top running crane – typically used for larger capacity and heavier duty applications. The hoist and trolley are installed on top of two bridge girders to provide greater clearance under the crane, and the hook can also be lifted between the girders.
If you are unsure as to which type of overhead crane is best for your facility, please feel free to contact us for consultation.
Second, Determine Your Overhead Crane Specifications.
The basic specifications you need to provide when talking to the overhead crane manufacturer include:
Load capacity: _ton?
Span of the crane: _m?
Max. lifting height of the crane: _m?
Traveling length:  m? Do you need us to provide the rail for you?
How many hours will the crane work per day, and how many times per hour?
Electric Power supply: 3 phase 380V 50Hz? or Other request?
Application: What kind of material will the crane lift?
Third, Working Environment Of the Crane You Need
The environment in which the crane is installed and used will affect the selection of an overhead crane. For example, a high temperature, dusty or excessively humid environment may require special metal coatings to protect and extend the service life of the crane.
Overhead crane used in low temperature environments needs to choose an insulated cab, and the metal structure should be made of materials with low sensitivity to low temperature and high impact toughness; bridge cranes used outdoors should be equipped with rain cover.
Fourth, Consider Other Special Requirements
In some special occasions, such as lifting nuclear fuel, installing precision parts, etc., when choosing this type of overhead cranes, should consider positioning accuracy especially.
For overhead bridge cranes in some important applications, in order to ensure the safety of the crane, the operation status and fault self-diagnosis monitoring system can be installed as an option.
Fifth, Consider Safety Protection Devices
In order to ensure the safer and more reliable operation of the crane, some safety protection devices should be selected according to different situations.
For example, add overload limiters to overhead cranes that are prone to overload; multiple overhead cranes that frequently operate in the same span should be equipped with anti-collision devices; for large-span overhead cranes, an anti-deflection device can be added; outdoor cranes should be equipped with wind and anti-skid devices; for heavy-duty and frequently used overhead cranes, an automatic oiling device can be added to prevent excessive wear of wheels and wire ropes.
DQCRANES supply light duty crane systems with 1 ton, 2 ton, 3 ton, 5 ton overhead crane for sale with good price, If you are intended to buy an overhead crane, please contact us for more information.