KBK workstation crane systems meet a wide variety of needs within manufacturing operations. Lifting and handling loads up to 2 tons, workstation cranes consist of a support structure, an enclosed rail workstation crane with runway and bridges, and lifting devices to meet your process needs.
Customer
Our customer comes from a company in Canada, which has developed and manufactured machine tools and been an innovative solution provider for manufacturers of series products, primarily serves the automotive industry.
Requirement
At its new workshop for final machine tool assembly, the company needed a flexible handling solution for bulky components that need to be positioned and installed with utmost precision in and on the machines. This was particularly important, as both sub-assemblies weighing several tonnes as well as components vulnerable to vibrations are moved and assembled during production of the machining centres.
The goal was for production personnel to be supported by cranes that would transport the often heavy components and lift them into position for assembly. Accordingly, the customer required smooth and even load transportation and precise material handling while making sure that sensitive components would not sway.
Solution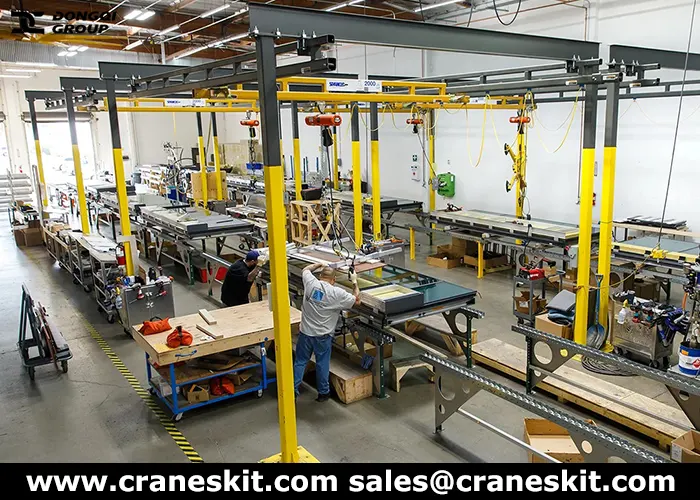 Two KBK workstation cranes with a load capacity of 2 tonnes and a span of 7.84 m travel on a shared runway. The KBK crane design comes with the advantage that its reduced weight exerts a smaller load on the runway and the building structure.
Also suspended from the roof superstructure are the KBK suspension crane installations, operating on this pair of tracks are equipped with our electric chain hoists, the loads can be precisely and easily positioned.
Moreover, the two-stage long and cross-travel limit switches prevent the cranes from running against the limit stops. With two-stage cut-off, the long-travel motion is switched to creep speed by the first limit switch. The second limit switch switches the drives off just before the limit stops are reached and prevents dangerous load sway.
This light-weight system is installed parallel to the crane runway for a reliable power supply.
2 Ton Workstation Crane for Sale to Canada
Rated capacity: 2 ton
Total height: 5.48m
Column height: 5.32m
Lifting height: 4m
Span: 7.84m
Travelling length: 18.28m
Cross traveling speed: 20m/min
Crane traveling speed: 20m/min
Lifting speed: 3.3m/min
Power supply: 480V/60Hz/3Phase
Protection class: IP54
Insulation grade: F
Ambient working temperature: -20℃~+40℃
Country of origin: China
KBK Workstation Crane to Canada Design Drawing and Production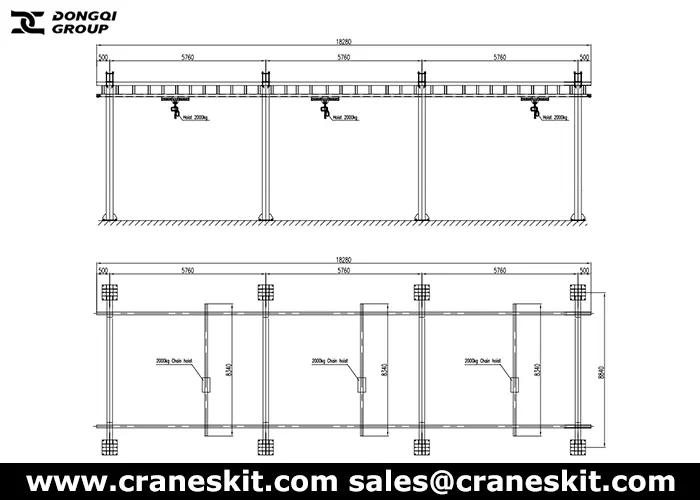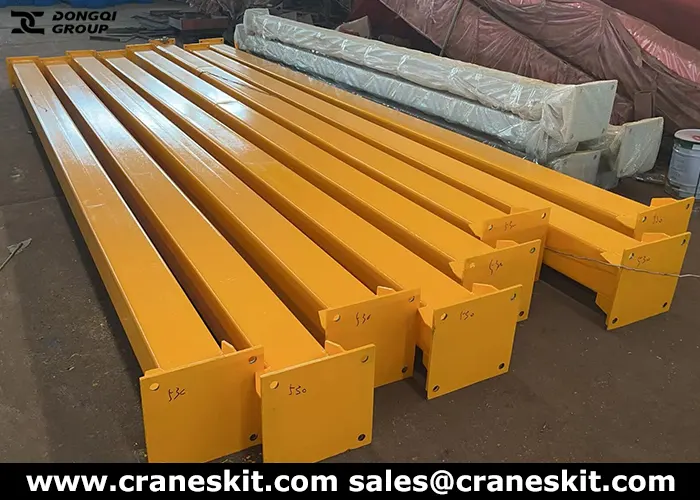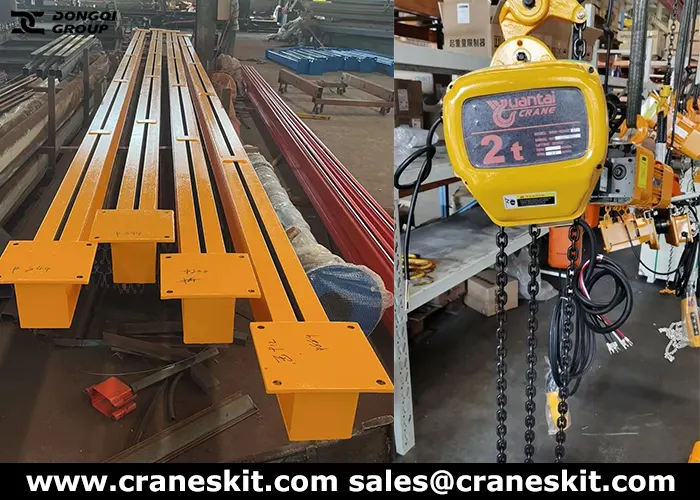 Wide Application of KBK Crane In Workstation – DQCRANES
At DQCRANES, KBK work station crane is a combined small crane, which is mainly used to carry light materials. It can lift materials at a designated location and hoist them to another designated location. It has the characteristics of simple operation and space saving.
KBK crane is suitable for the transportation of materials in the production process. It has the characteristics of fast start-up, light weight and simple operation. The connection between the main beam and the running track adopts universal ball connection to ensure the smooth operation of the crane.
KBK crane have a rated load, the lifting capacity is 125-2000kg When in use. it has a wide range of applications, especially suitable for modern production conveyor lines. It cannot exceed its specified maximum range value, otherwise it will increase its loss and work accidents may occur.
Why Choose KBK Crane from DQCRANES?
High stability
The components of the crane system are all standard modules, which can ensure mass and high-quality production, so the system is very reliable; the main body of the system module is cold-rolled profiles of three specifications, which have high strength, good rigidity and light weight, ensuring the stability of the system.
Strong applicability
The KBK light crane system can be flexibly designed and installed according to the needs of each station in the factory. From fixed-point transportation to high-accuracy multi-point and multi-beat automatic conveyor lines, they can be combined at will. It can be used in newly designed workshops, as well as in the transformation and extension of old systems.
Easy to install
The installation and debugging of KBK crane is very convenient. The KBK profile and the standard modules can be used only with bolt connection, which can save the space and area of the factory, thereby reducing energy consumption and improving enterprise benefits.
How To Get Custom KBK Crane System Price?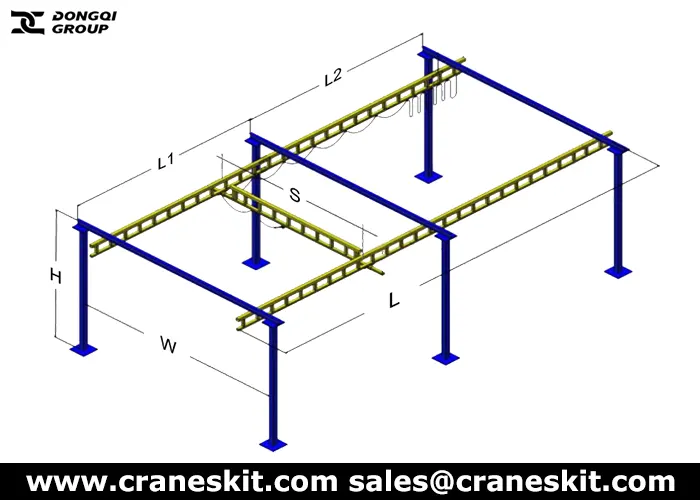 Lifting capacity of light KBK crane: __Kg
Width (S)=__m, H=__m, L=__m, L1=__m, L2=__m
Hoist type: Electric chain hoist or wire rope hoist or Manual chain hoist?
Crane travel type: Electrical type or Manual type?
Voltage: ____V____Hz____Phase (If electrical type)
Control Mode: Remote control or Pendant control?
How many KBK cranes are running on the same track?
Transportation: tell us the sea port name near you, we can quote you shipping freight.
If you are looking for workstation cranes, DQCRANES is your answer! Please feel free to contact us, we respond fast and are ready to help you.