Low Headroom Electric Chain Hoist in Philippines – DQCRANES
DQCRANES Low headroom electric chain hoist is is designed for the application where working space is limited, such as storage, port, batching workshop, etc..
Low headroom chain hoists is coupled with the single/three-phase motorized trolley provide excellent traversing motion and control. electric chain hoists with motorized trolleys are available in capacities of 0.5 ton to 10 tons. All trolley wheels fit on tapered or flat flanged beams.
Low Headroom Chain Hoist for Water-recycling Plant in Philippines
5 ton low headroom electric chain hoist lifts pumps in a water-recycling plant. The customer comes from a water-recycling plant in Philippines. Efficient wastewater treatment is a demanding task. Recently the company met a real challenge that they need to lift the huge water pumps to finish the regular maintenance work. Even though the plant was designed with appropriate ceiling height, but some areas where lifting processes have to be done with high loads and little space.
The area above the pumps is limited, so the customer found us and requested us to supply several electric chain hoist mounted on a monorail directly above the water pumps. Thus, the small space above the pumps is used completely, the water pumps can be lifted safely, and maintenance work can be carried out optimally.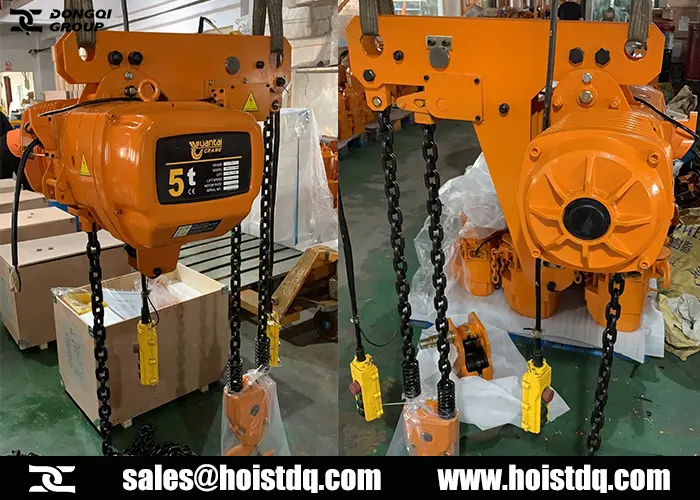 5 ton low headroom electric chain hoist for sale to Philippines
Compact Design for Maximum Lifting Height
After received the inquiry, our sales engineer recommend low headroom electric chain hoist to solve the problems about little space and low ceilings. The low headroom chain hoist with Motorized Trolley is compact design and robust electric chain hoist. For the lifting processes in the wastewater treatment plant, our customer has chosen an 5 ton electric chain hoist with low headroom and a lifting height of 9 m, this electric chain hoist masters all maintenance tasks safely and without much effort.
The following is main parameters of the low headroom 5 ton electric chain hoist to Philippines. Welcome to check, if need more information or request a quote to our low headroom chain hoist, welcome to contact us!
Type: Electric Low Headroom Trolley Hoist
Lifting capacity: 5 ton
Lifting height: 9m
Traveling speed: 21m/min
Lifting speed: 2.7m/min
Power supply: 400V, 60HZ, 3 Phase
Insulation grade: F class
Protection class: IP54
Chain diameter: 11.2mm
Lifting motor power: 3.0KW
Traveling motor power: 0.75KW
Low Headroom Electric Chain Hoist to Philippines Design Drawing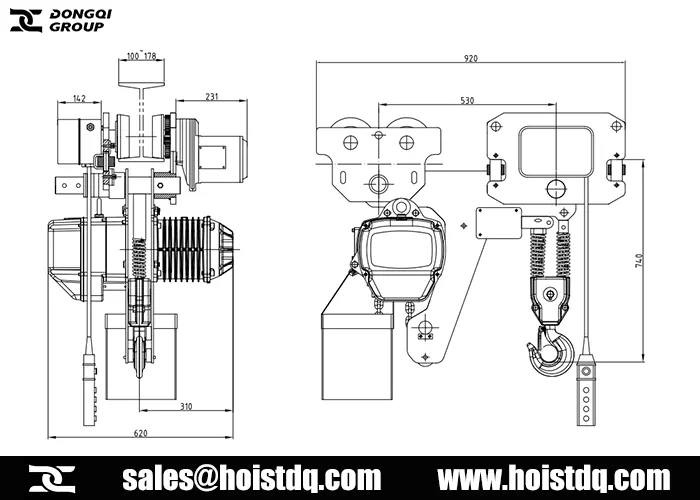 5t low headroom electric chain hoist to Philippines design drawing
Low Headroom Electric Chain Hoist Design Features – DQCRANES
Shell: It is made of light aluminum shell, light but hard. The cooling fin is specially designed to ensure quick heat dissipation with the rate up to 40% and continuous service.
The integral enclosed structure is applicable to place like chemical plant and electroplate factory.
Side magnetic braking device: The magnetic force generator is the latest design which is featured for generating magnetic force.
It allows instant brake as soon as the electric power is cut off. Thus the braking safety while loading is guaranteed.
Limit switch: The limit switch device is installed where the weight is lifted on and off to make the motor to stop automatically so as to prohibit the chains from exceeding for safety.
Chain: The chain shall adopt the imported FEC80 ultra heat-treatable aluminum alloy chain.
It can be safely used in poor environments such as rain sea water and chemicals.
The chain bag is light, handsome and durable.
Hook: It is hot forging with perfect strength that is hard to break.The operation safety of the lower hook is ensured by its 360 degrees rotation and safety tongue piece.
Support frame: The loading support frame consists of two steel plates, which is extremely sturdy.
Transformer: 24V/36V transformer device. The device is used to prohibit unexpected accidents caused by electric leakage and guarantees the safe uses while raining.
Electromagnetic contactor: electromagnetic contactor can be used safely under high frequency.
Inverse phase sequence protecting device: It is the special electrical installation which controls the circuit not to work in case of wiring error in the power supply.
Push button: Waterproof push button is applied. It is light and durable.
Standard fittings: Chain bag (1), control cable (3m), push button switch (1).
Other Types of Electric Chain Hoists for Sale to Philippines
Electric chain hoist with hook
Electric chain hoist with manual trolley
Electric chain hoist with motorized trolley
Explosion electric chain hoist
Stage chain hoist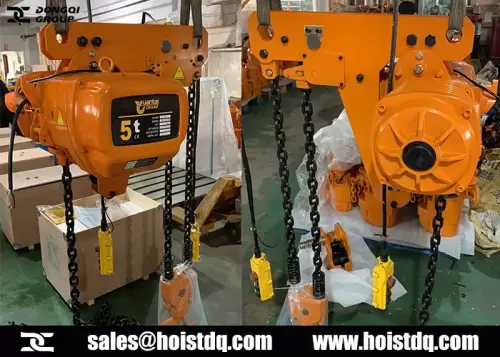 5-ton-low-headroom-electric-chain-hoist-to-philippines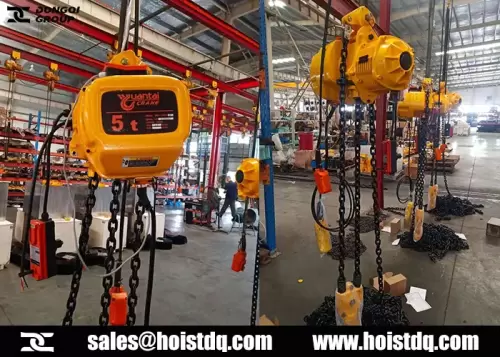 5-ton-electric-chain-hoist-for-sale-to-philippines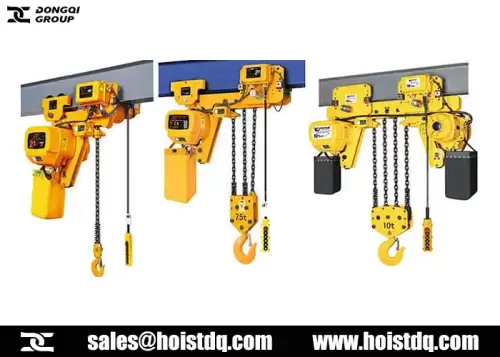 low-headroom-electric-chain-hoist-for-sale-philippines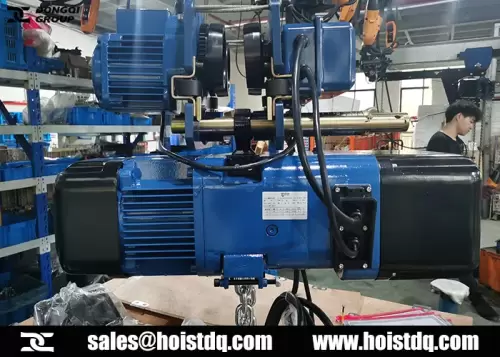 european-electric-chain-hoist-for-sale-philippines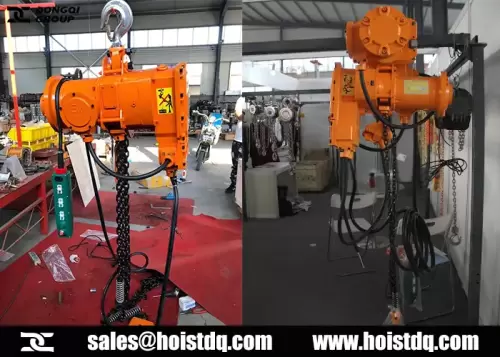 explosion-proof-electric-chain-hoist-for-sale-philippines
How to Order Electric Chain Hoist from DQCRANES?
When specifying an Electric Low Headroom Chain Hoist from DQCRANES, the following parameters should be considered. Determine the specific requirements and clearly state them when ordering. The following checklist will be of help:
Load weight to be lifted.
Lift height or reach required.
Control types required.
Power supply available.
How often load must be lifted.
Operating environment (moisture, corrosive fumes, explosive vapors, temperature, etc.)
Beam sizes and weight (to determine trolley wheel specifications)
Trolley type (fixed, hand-geared or motorized)
Order Online, by Phone/WhatsApp, or by E-Mail!