20 Ton overhead crane Project in Panama – DQCRANES
We received an email from a company in Panama, the company's main activities include steel structures, cladding and metal roofing as well as metalwork. At times such works as exterior aluminium millwork are also undertaken.
In November 2022, this company relocated to an industrial park, they need to acquire a new EOT crane with European/FEM standard design. The customer learned from his friend that we have provided several bridge cranes to help his friend's factory improve production efficiency. The customer had a close look at and operated our bridge crane in his friend's workshop, and expressed great interest in our products.
The customer favoured DQCRANES as his preferred choice, Because we have experience in exporting cranes to Panama, and the customer learned from his friends that both crane quality and after-sales service are guaranteed.
After receiving the customer's inquiry, our sales manager quickly established contact with the customer and confirmed the relevant parameters of the bridge crane and his new workshop, including span, lifting height, travelling length, working level, steel structure dimension, etc.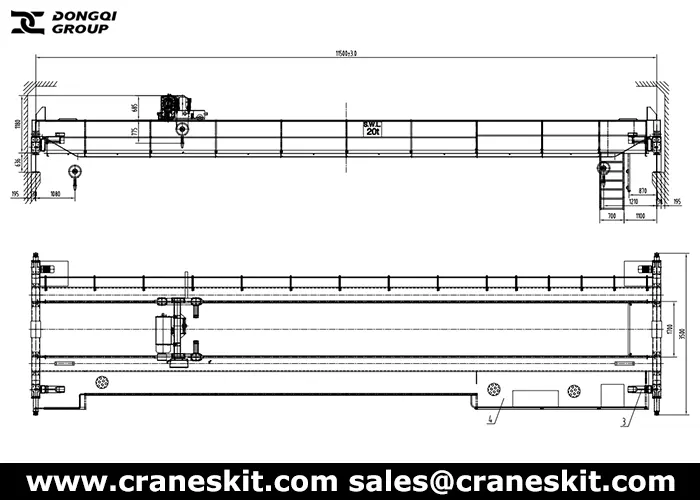 After received our quotation and design drawings, the customer invited us to open an online video conference to discuss the design proposal we provided with his engineers together. In the end, the customer was satisfied with the technical solution, the price and service we provided, and decided to purchase from us.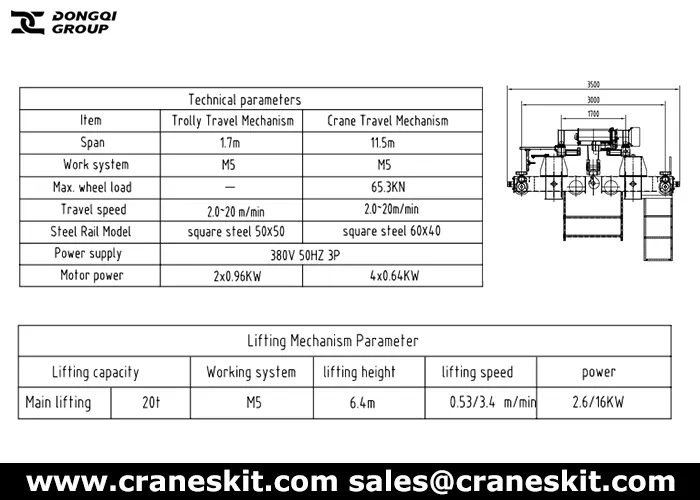 European Overhead Crane to Panama Design Features:
The customer purchased two Double Girder Overhead Cranes of the QDX European type. The lifting capacities of 20 tonnes and spans of 11.2 m, lifting height of 6.4m.
DQCRANES offered NR wire rope hoists to match with both bridge cranes, because the customer needed more precision when moving the materials to their new machining centre. The modular wire rope hoists provide the required precision through variable speed.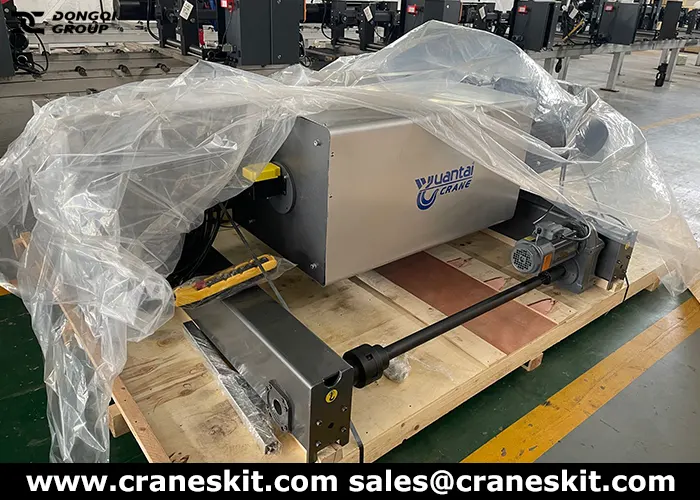 DQCRANES also facilitates the cross travelling synchronisation of the two hoists each sitting on the two cranes that work in TANDEM leading to reliable handling of long parts. Any drifting of the load hooks due to different speeds is eliminated, thus resulting in perfectly simultaneous functioning. Movements in all directions can be controlled for two cranes and for up to four hoist trolleys to be perfectly synchronized.
Why Choose QDX Series European Bridge Crane from DQCRANES?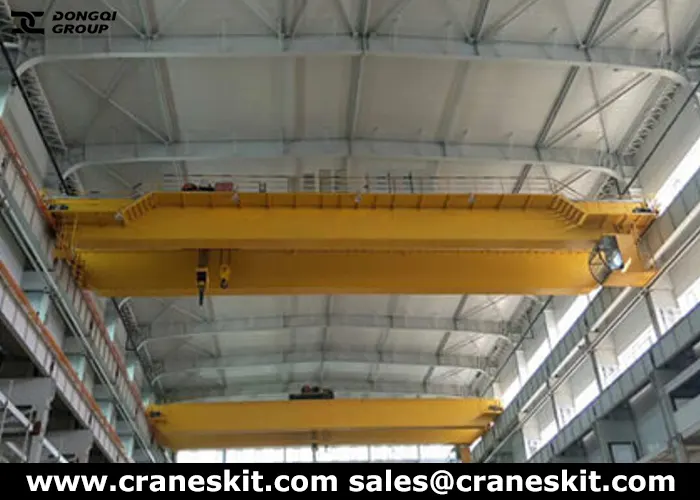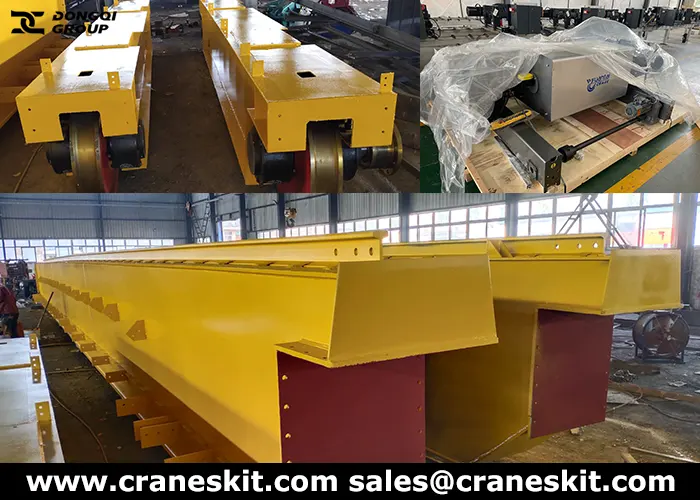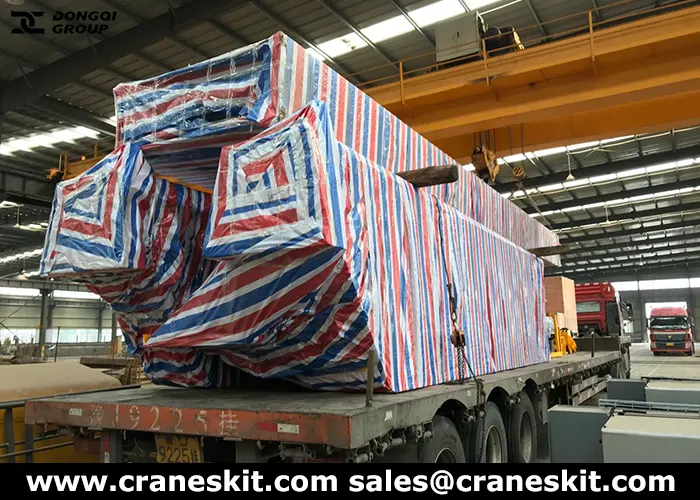 Advanced technology and reliable performance:
After many tests and improvements, European Overhead Cranes has been developed and launched to ensure product quality and safety.
European standard double girder bridge crane is designed to help customers improve production efficiency, reduce maintenance costs, extend service life and maximize return on investment.
Tight structure and modular design to optimize your investment:
QDX series double girder European bridge crane is characterized by compact structure, light weight, low wheel pressure and uniform load distribution. It can greatly reduce the construction cost and heating cost, making maintenance more convenient.
Compared with the traditional bridge crane, with the change of load and weight, the size of European bridge crane is reduced by 10% – 15%. The heavier the load, the smaller the allowable size of European cranes, the more investment savings and the higher the return on investment.
Green concept dominates innovations for saving space and energy:
The compact crane structure maximizes the availability of workspace. The durability of the crane parts and crane free you from frequent maintenance.
Lighter weight and lower wheel pressure result in lower energy consumption.
High safety and reliability, convenient to maintenance:
The double girder European bridge crane adopts advanced technology and processing equipment, carries on the strict quality control and the inspection to ensure the product quality and the high safety.
Maintenance-free and maintainable design concept makes material handling equipment competitive with other equipment, but also easy to maintain and operate.
Customized configurations and wide selections:
QDX series European bridge crane can be provided with customized configurations, with the lifting capacity ranging from 5 – 100 tons.
Turning over hoist, anti-sway device, automatic positioning device, winch servicing and monitoring device, or remote diagnostic tools can be customized.
Get European Overhead Crane Price!
DQCRANES European overhead crane not only has durable structure, but also has long service life in operation process. If you have a choice, please choose European crane from DQCRANES for your business. Free consultation to confirm parameters and get latest crane price as follow:
Types of overhead cranes: Single girder or Double Girder Crane? Standard overhead crane or European standard overhead crane?
Capacity of overhead crane: _ton?
Crane span: _m?
Lifting height: _m?
Crane travelling length: _m?
Control of overhead crane: pendant/ remote/cabin control?
Voltage supply of overhead crane: Eg,: 380V,50/60HZ,3Phase or others, etc.
Application/Working conditions?
Any special request?
Please feel free to contact us via E-mail or WhatsApp, our sales engineer will reply you with suitable crane design and best quotation in 24 hours.