DQCRANES 2 ton mobile jib crane exported to Qatar
Client's Request
This is a new customer from Qatar. The customer's business is building maintenance units, generators and related parts and services. He asked for a 2 ton jib crane to help his client lift glass.
Our Solution
After communicating by phone and email, we learned that this jib crane will be used on the roof, lifting the glass placed on the ground. Our sales engineer recommend a mobile jib crane for our customer, it can be transferred to other areas when not in use or when the project is completed.
Below is our jib crane solution for our customer: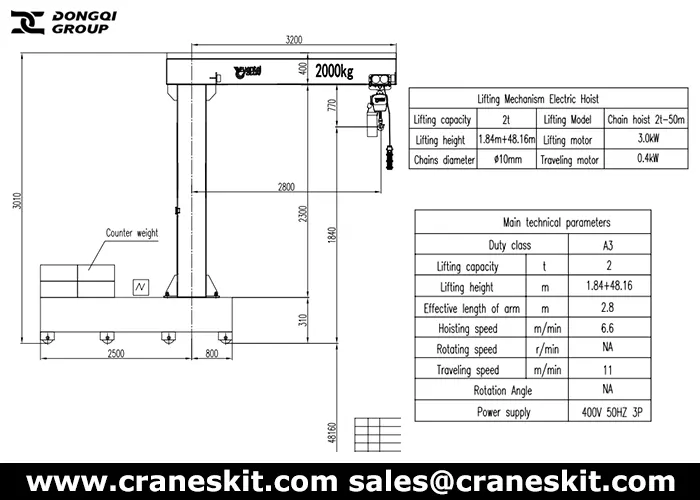 The jib crane arm should be fixed, no need to rotate;
The maximum lifting capacity does not exceed 2 ton;
Arm length 3m; (effective arm length: 2.8m)
Lifting height is 50m; (48.16m in building height + 1.84m in height from the roof)
Power supply: 400v/50hz/3p
Working duty: A3
Control: Pendant control & Remote control
Hoist type: electric chain hoist with electric trolley
Wheels No.: 8
Equipped with counter weight
Client's Feedback
The customer is very satisfied with our jib crane solution design and quotation. The portable jib cranes with tailored crane specifications fully meet client's lifting requirements and application conditions, our customer promised they will cooperate with us again in 3 months. So happy to hear that!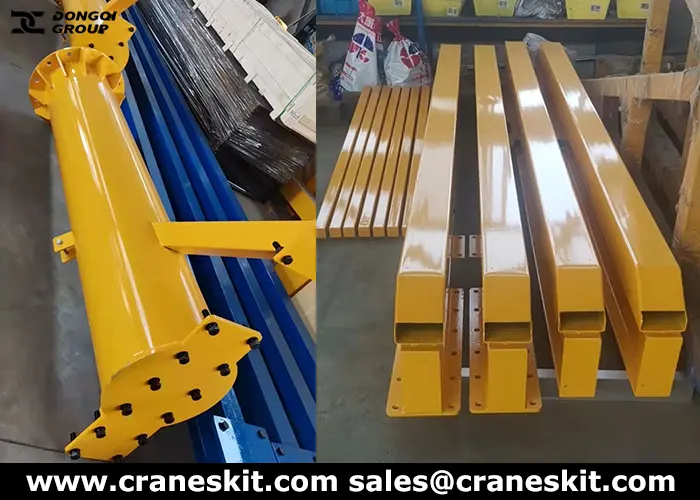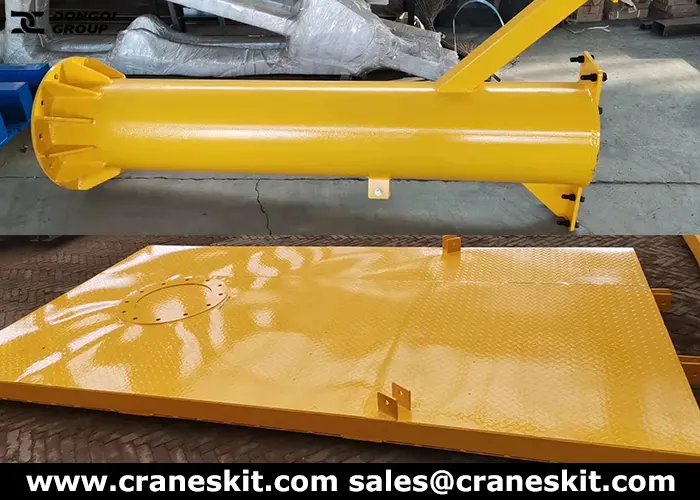 Our Service
Long term cooperation is build on the bases on high-quality equipment and timely after sale services, DQCRANES is a professional one-stop material handling solution and service provider in Qatar, Middle East, and all over the world. Contact us now, Get Crane and Hoist solutions soon!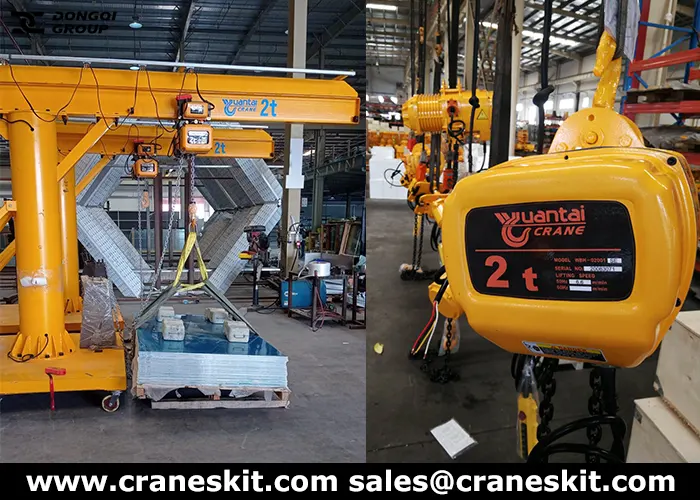 Portable jib crane design Features
Can be arbitrarily flexible to move to work.
The crane boom can rotate on the antifriction bearing.
It can rotate to 360 degrees.
Small size, easy installation, operation and maintenance.
Suitable for outdoor freight yards and loading platforms.
Higher worker productivity.
Cost savings by utilizing the building's existing structure for mounting when feasible.
Why Choose Mobile Jib Crane from DQCRANES?
Cost-Effective Jib Crane Solution
Portable mobile jib cranes eliminate the need for permanent support structures. This design not only offers a surprisingly easy setup but provides cost-efficiency so that our customers are able to get the best value from their jib crane order.
Portable Jib Crane Versatility
This jib crane is designed with mobility in mind. DQCRANES provides the solution that seamlessly adapts to any workplace. Even if you already own a permanent jib crane, the portable design can adapt to be an excellent complement to larger equipment.
Ease of operation
Our mobile jib crane is easy to operate and maneuver within your facility! And with our equipment, you additionally benefit from the portable jib crane's ergonomic design. Our portable jib cranes position your workloads effortlessly, providing you with more time to focus on other essential aspects of your business.
How to get jib crane solution and price?
If you jib crane price and reliable jib crane solution, please help confirm and let us know your specific needs.
Jib crane type: Floor jib crane? Wall jib crane? Mobile jib crane?
Lifting capacity:
Lifting height:
Span (arm length):
Power supply (e.g. 380V 50Hz 3Phase):
Rotation: 90°? 180°? 270°? 360°?
Rotation type: manual or electrical?
Hoist type you prefer: electric wire rope hoist, electric chain hoist, manual chain hoist
Used indoor or outdoor?
What materials will the jib crane lift?
DQQCRANES supply types of jib cranes for sale, mobile jib crane, floor mounted jib crane, freestanding jib crane, wall mounted jib crane and wall travelling jib crane, etc., also accept custom jib crane to meet your requirement.
For more information about our jib cranes, please feel free to contact us online. Purchase your next jib crane from DQCRANES today!
https://www.craneskit.com/2-ton-mobile-jib-crane-for-sale-to-qatar.html