Street has supplied and installed two overhead cranes in the newly expanded Boulby Underground Laboratory, which is operated by the Science and Technology Facilities Council (STFC).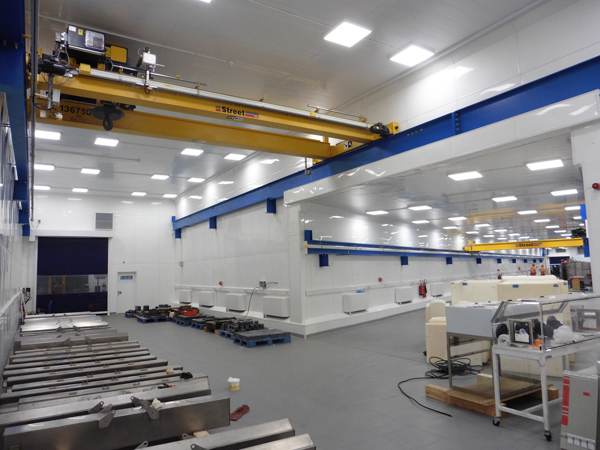 The £1.7m science facility is located 1,100m underground in Yorkshire.
The facility is just one of a very small number worldwide to host ultra-low background and deep underground science projects. Due to be fully operational in early 2017, the new laboratory will be used for current experiments and provide additional space for new research projects.
Both overhead cranes are double girder design giving maximum lifting height in the restricted area and have lifting capacities of 5t and 10t. They will be used for heavy assembly work, including preparing equipment such as metal shielding for experiments.
The 5t overhead crane operates in an area 60m long but only 4m high and 7m wide. The 10t overhead crane functions in an experimental cavern, which is 45m long and just 6m high and 7m wide. Both feature Street's ZX hoists, which provide maximum lift and lateral travel along each crane beam.
Chris Lindley-Smith, sales director at Street Crane said: "It's been great to be involved in such a fascinating facility and to complete one of our most unusual installations. We had to deliver the cranes to site in kit form so they could be lowered into the working area in the site lift before underground assembly and installation. To enable this unusual delivery all key structural elements had to be accurately marked with the centre of gravity and correct lifting points – this was absolutely critical to ensure safe working in such tight areas.
"As the cranes have to operate in confined spaces with very limited headroom, the ZX hoists are advantageous as their compact design maximises the top hook position and the cranes optimise hook coverage of the floor working area. All of the supporting runway steelwork was installed directly onto the mine's lining structure, ensuring the cranes leave the floor working space completely free."
Street installs cranes 1.1km underground in science facility