A 35t capacity Pelloby overhead crane has been installed at BMW's Swindon Mini plant.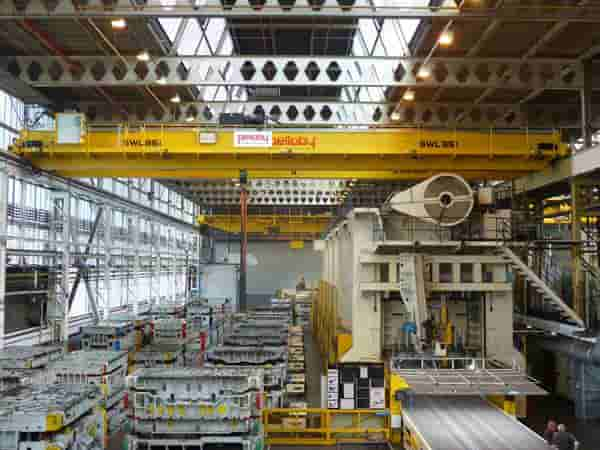 This electric travelling crane system, which features a double girder design and wire rope hoist unit, was commissioned as part of a project to replace an older crane in the site's press shop.
The finished crane offers 9.8m height of lift and spans 21.7m between two pre-existing gantry supports. Walkways were incorporated into the design on the external side of each of the crane's beams to provide access for maintenance and inspections.
Variable speeds are available on the long and cross travel motions and hoist movement, all of which are controlled from a joystick radio remote.
Pelloby was also able to project manage the removal of the existing crane and installation of the new system. Operator training was provided for the BMW staff and to further guarantee the utmost in workplace safety, an ongoing maintenance contract was put in place which will see the Pelloby team inspect the crane on a regular basis.
A complete spare parts package consisting of everything from a full set of drives through to an extra radio control transmitter was supplied along with the crane to make sure downtime will be kept to an absolute minimum.
Just a few months after this double girder crane arrived the Pelloby team were back at the BMW Mini Plant in Swindon supplying a 10t semi-portal system with an 8m span and lifting height of 3.8m to a tool shop.
In addition to audible and visual warning beacons that indicate when this semi-portal crane is in use and an emergency stop button, this innovative crane also featured a laser scanner with a fully programmable detection area representing the utmost in anti-collision technology.
BMW have placed an order with Pelloby for two more 35t cranes to replace other cranes in the press shop which are due to be installed towards the end of this year.
Pelloby's managing director Glen Hickman stated "We've completed the challenge of delivering the initial press shop crane and are currently hard at work in the pre-manufacturing phase for the subsequent two 35t cranes that will be delivered, erected and tested at the BMW Swindon site around Christmas time."