DQCRANES portable gantry is manufactured for lifting equipment, loading and unloading material in the warehouse, maintaining heavy-duty equipment. Equipped with electric chain hoist or hand chain block, applicable for small and medium workshop, especially in areas where cranes are required to move freely.
The best advantage of the portable gantry is omni-directional movability, fast to assembly, small volume. Therefore, our steel portable gantry cranes are very popular in Spain and all around the world.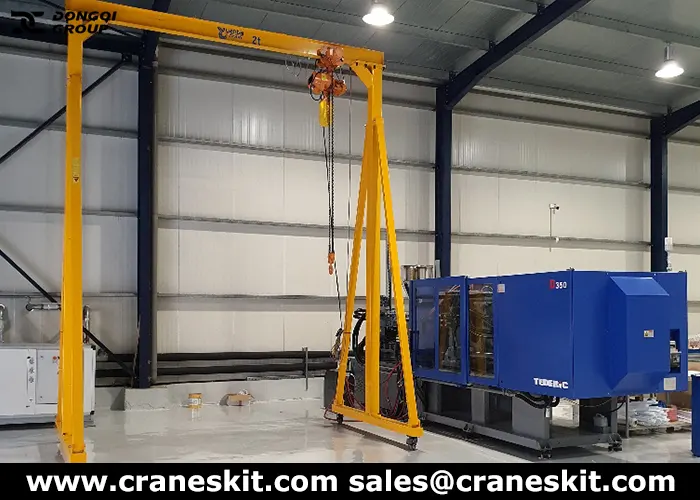 The background
Carl operates a small shipbuilding warehouse, he needed a gantry lifting solution for the his ships production and assembly, which can be used for lifting and lowering everything from machinery to pumps – no matter for indoor or outdoor use.
The challenge
Carl said, the portable gantry he needed must be stable enough to work on the ground, portable enough to be packed away neatly when not required, and durable enough to withstand the rain or snow environment outdoor. They also needed a motorized chain hoist which could be moved on the frame girder, but which would remain secure and stable at all times.
The solution
Carl asked our recommendation whether it is appropriate to use aluminum gantry or steel portable gantry. After comprehensive consideration, we recommended steel portable gantry crane to him.
Our mobile gantry cranes are very flexible and portable, can be packed away in a storage room when not in use, but quickly and easily assembled to meet virtually any lifting requirement. After confirmed with our design solution, Carl was very satisfied.
This fixed height gantry crane comprised a tall A-frame with a capacity of 2 ton and an electric chain hoist with trolley. The key benefits of the our portable gantry crane for sale are lockable castors which make the gantry easy to move around, even under load.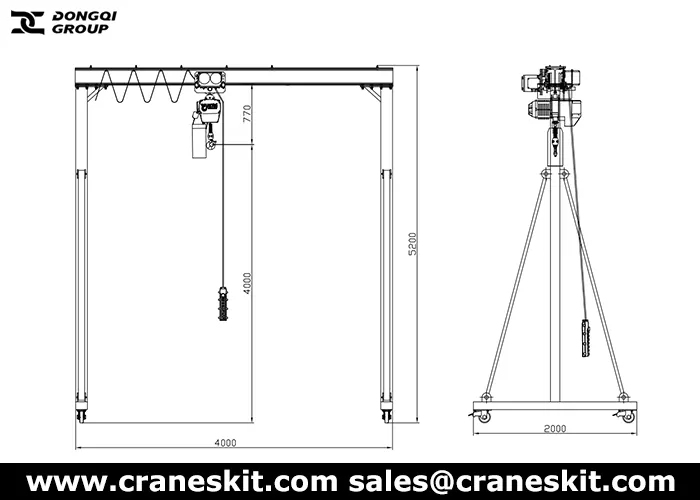 Portable Gantry Crane for Sale to Spain
Type: Fixed height gantry crane
Lifting capacity: 2 ton
Lifting height: 4m
lifting speed: 6.6m/min
Traveling speed: 1.1m/min
Lifting motor power: 3KW
Traveling motor: 0.4KW
Power supply: 380V/50Hz/3 Phase
The I-beam has holes along it's length which allows for the A-frames to be assembled inboard the beam. This reduces the width of the gantry to allow for the gantry system to fit into the working areas which have limited space.
The result
We have reached a very friendly cooperation this time! Now the production of portable gantry crane 2 ton has been finished, is ready to export to Spain. Our client said that he is waiting for the gantry crane arrives and looking forward to cooperating with us again.
2 Ton Mobile Gantry Crane to Spain Production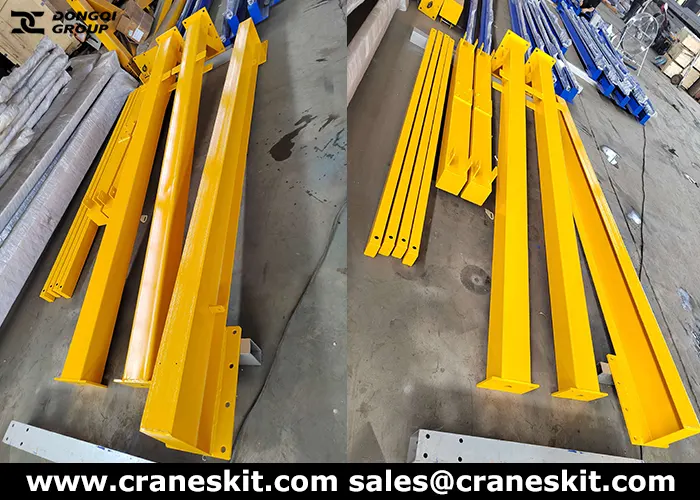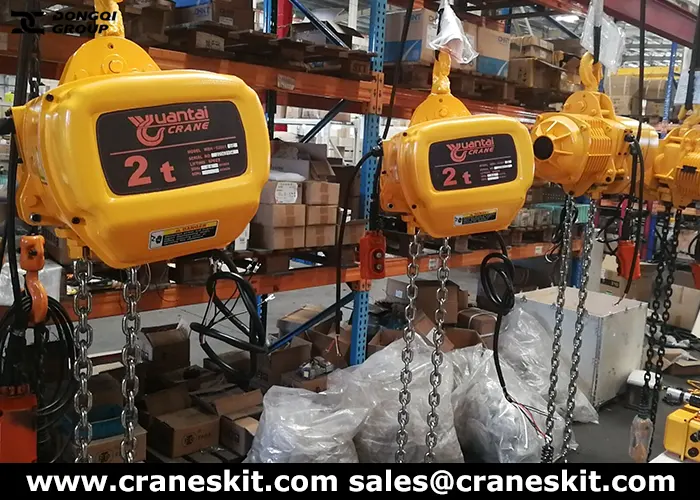 Our portable gantries system is flexible, cost effective and is ideal for small and medium warehouse, workshop. DQCRANES portable crane system is easy to assemble and move, is a more cost-effective lifting solution for areas of infrequent lifts, can maximize efficiency while saving your time. Contact us to get free quote!
Why Choose Portable Gantry Crane from DQCRANES
Simplicity
Our products are designed to be intuitive, easy to use and operate without the need for complex rigging equipment or machinery.
Mobility & Portability
Easy to roll, you can move this gantry crane anywhere in your work area with its swivel casters. The wheels have brakes so your gantry crane will be able to lift safely. Simply release the brakes when you want to move your gantry crane elsewhere.
Versatility
DQCRANES supply types of portable gantry crane for your applications, such as Fixed height gantry crane, Adjustable gantry crane, Steel gantry crane and Aluminum gantry crane, etc. Also provide custom gantry crane to meet any needs.
Operator Safety
All products are designed and tested to meet or exceed regulatory requirements and to focus on operator safety.
Affordable
A gantry crane is more affordable than an overhead bridge crane. If you are lifting capacities smaller than 5 Tons, then a gantry crane may be a better option for you, save money and high efficiency.
Get Portable Gantry Crane Price from DQCRANES
Are you looking for a suitable portable gantry crane for your applications? Welcome to contact DQCRANES. In order to customize the design drawings and the latest price for you as soon as possible, please confirm as much useful information as possible in the followings: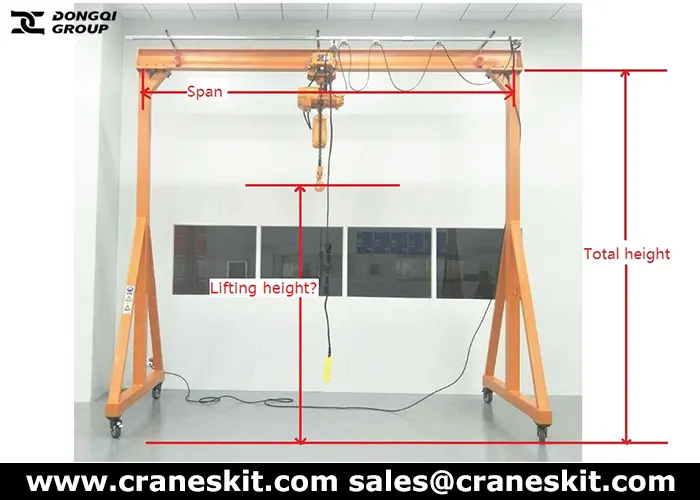 Lifting capacity: _ton
Lifting height: _m
Span: _m
Voltage: _V_Hz_Phase (if Electric hoist)
Hoist type: A. Electric chain hoist  B. Electric wire rope hoist  C. Manual chain hoist
Control Mode: A. Remote control  B. Pendant Control
Application: What material will the crane lift?
Transportation: Tell us the sea port name near you, we can quote you shipping freight.
Visit our website or contact us if you have any questions or would like additional information about our portable gantry crane price and service. We would be more than happy to assist you!